l National industrial engineering doctoral academic forum
The National Academic Forum for Doctoral Students in Industrial Engineering and the Outstanding Young Scholar Academic Salon" (hereinafter referred to as the Doctoral Forum) is an academic exchange activity for PhD students and senior graduate students majoring in industrial engineering, management science and engineering and related specialties, as well as outstanding young scholars. The Doctoral Forum aims at strengthening academic exchanges, promoting discipline development, enhancing the innovative consciousness and ability of graduate students, and improving the level of industrial engineering research and education in China. This forum is hosted by the Department of Industrial Engineering of Tsinghua University.
The forum is mainly in the form of academic reports, including invited academic reports, academic salons for young scholars, and other activities. Young scholars are invited to give their academic speeches and submit a summary of the reports.
This forum covers the major research areas of industrial engineering, management science and engineering and related disciplines, including but not limited to: operations research and operation management, service operation management, ergonomics and human factors engineering, production systems engineering, logistics management and engineering, enterprise integration and information technology, applied statistics, quality control, transportation engineering, behavioral operations research, medical service management, large data theory and application, etc. During this forum, several panel discussions are also organized to provide supports for students' research activities and their career development. Besides academic exchange, this forum is also an event which could be used to enhance students' ability in organizing academic conferences, improve their presentation skills, and academic communication.
Since the first doctoral forum in 2013, we have already held 5 forums. In total, we have touched 650 students who ever studied post-graduate programs in Tsinghua. In December 2018, we have attracted 107 students from IE department Tsinghua and 29 students from other universities in China. It has become one of the most influential academic events in the field of Industrial Engineering in China.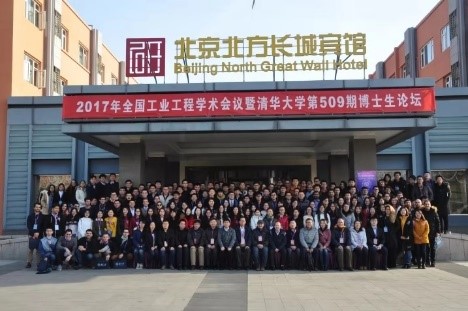 Group Photo of 2017 Doctoral Forum
l PhD student social practice
Social practice is a required course for PhD students in our department. PhD students are obliged to take part in social practice in the second or third year. The practice lasts for at least six weeks. In additional to provide practice partners through school, our department is actively engaged in the construction of practice partners, examples include Beijing Institute of Transportation Development, General Hospital of the Chinese People's Liberation Army, University of International Business and Economics, Institute of Nuclear Power Operation, National Transport Logistics Public Information Platform (Hangzhou), Hunan Institute of technology, Xinjiang Hami Construction Group, and so on.
Taking the social practice in 2018 as an example, 30 Ph.D. students in our department participated in the social practice. The practice sites were all over the country, such as Beijing, Tianjin, Hebei, Shandong, Fujian, Xinjiang, Guangxi, Jiangsu, Hubei, and Guizhou. The themes of practice were not only combined with the hotspots such as "made in China 2025", "Internet +", artificial intelligence, but also expanded in different fields such as value chain, macro economy, regional development and so on. PhD students combined their professional knowledge, interests with business needs in the practice. They not only enhanced the ability to use knowledge, but also helped practical units to solve practical problems. In the practice, our students had distinct practical themes and achieved remarkable practical experiences.
l Academic Salon
Academic Salon aims to provide a communication environment full of relaxation and freedom where graduate students can talk with each other about their study and research. The frequency of academic salon is once two weeks. Before every time it's held, the graduates working group will ask for students' idea about which topic to discuss about and finally set 2~3 topics for students. Coffee, fruits, and snacks are provided for the salon. In the academic salon, we will invite professors to take part in every discussion.
What's more, before we hold an academic salon each time, we will popularize our activity with the help of some applications such as "Micro Salon", which will attract more students from different departments to take part in the discussion.
l IE Xiaoyan
"IE Xiaoyan" is the official "WeChat public platform"(also known as "WeChat Official Account")of the graduate students of the Department of Industrial Engineering, Tsinghua University.
It was launched in October 2015. WeChat Official Account is a functional module developed by Tencent on the basis of Wechat. Individuals or enterprises can apply a WeChat Official Account, sending articles, voices, etc. or communicating with WeChat users who pay attention to the WeChat Official Account. "IE Xiaoyan" is open to all the faculty and students. The manuscript sent to "IE Xiaoyan" can be published after being reviewed by the operators of "IE Xiaoyan", and will be read and forwarded by the followers.
Today, with high technology, new media represented by the WeChat Official Account has gradually replaced traditional media such as newspapers. For graduate students in the Department of IE, "IE Xiaoyan" is a newspaper, a radio station, and a platform for communication. Smart phones are very popular in China. The coverage of WeChat has reached 90% in 2015. Through WeChat, "IE Xiaoyan" can achieve timely and efficient information dissemination. As of October 23, 2018, "IE Xiaoyan" had a total of 576 followers, covering a full range of graduate students.
Moreover, all the faculty and students can be journalists, and make their own voices on "IE Xiaoyan". Since January 1, 2018, "IE Xiaoyan" has released 53 articles. The Department has issued announcements or reviews on important issues such as "Graduate Graduation Ceremony", "Graduate Opening Ceremony", "Mid-Autumn Festival Symposium", and "Doctoral Forum". The students' union and Youth League committee have displayed information of activities such as "Freshman Sharing Exchange", "Buddy Program", and "Academic Salon". The GongBo 18 Party branch and GongBo 17 Party branch showed their colorful activities. In addition, the stories and experiences of some outstanding person will be displayed to give readers inspiration and strength. Readers can express their opinions by leaving a message at the end of the article or sending a message to "IE Xiao Yan", where the messages can be seen and commented by other readers, achieving efficient and extensive communication.
"IE Xiaoyan" is a vital tool for students. It bears the important responsibility of expression and communication. Overall, "IE Xiaoyan" is the Department of events and notifications of the media, a window to show the colorful life of students, and a collision stage with diversified views.
l International exchange activities for Chinese and foreign students
The Department of Industrial Engineering at Tsinghua University aims to enrich the learning experience of overseas students, cultivate their practical ability and innovative creativity, enhance their employment competitiveness, and continue to organize a series of distinctive practical teaching activities, including course visits, "production practice" attended by Chinese and foreign students and cultural experience.
According to the visit plan of these courses, international students visit the energy, retail, transportation, logistics and supply chain, medical services, infrastructure, electricity and other fields of representative enterprise, understand the current situation and challenges, and learn the basic tools and methods to solve the problem of real industrial. It will help them further understand the classroom knowledge in the process of practice teaching, and at the same time, learn more about Chinese industry, society and culture.
IE Buddy Program is organized by the department, which allows Chinese students to pair up with international students. Through cross-cultural communication, buddies can not only improve their English level, but also gain direct understanding of foreign life and culture, and more importantly, a precious international friendship.
l IE Future Professor Plan
The department decided to implement the "IE Future Professor Plan" in Oct. 2018 in order to strengthen the academic interests and spirit of the graduate students, improve their academic accomplishment, language expression, communication and collaboration, original thinking, international exchanges and cooperation, and cultivate the future professors in industrial engineering.