PEO
The current PEO is:
1. Employ industrial engineering theories, and analytical and management skills for increasing efficiency and quality and reducing cost of industrial and service systems;

2. Demonstrate peer-recognized critical thinking skills, innovation mind-set, system perspective, communication and organizational skills to promote the improvement of processes or systems.

3. Assume managerial and leadership roles in their professional careers or graduate programs while working in intercultural and multidisciplinary teams;

4. Act with global, professional, and ethical responsibility and adapt to rapid social and technological development through lifelong learning.
SO
The student outcomes are as following:
(a) an ability to apply the principles of mathematics, science and environmental engineering;

(b) an ability to design and conduct experiments, as well as to analyze and interpret experimental data;

(c) an ability to design a system, component or process to meet the desired needs within realistic constraints;

(d) an ability to function on multidisciplinary teams;

(e) an ability to identify, formulate and solve engineering problems;

(f) an understanding of professional and ethical responsibility;

(g) an ability to communicate effectively in writing, making oral presentation and interpersonal/team communications;

(h) the broad education to understand the impact of engineering solutions in a global, economic, environmental, and societal context;

(i) a recognition of the need for life-long learning, and an ability to engage in life-long learning;

(j) a knowledge of contemporary issues;

(k) an ability to use the techniques, skills and modern engineering tools necessary for engineering practice.
Enrollment and Graduation Data
The Table of Annual Student Enrollment and Graduation Data of Industrial Engineering
| | | |
| --- | --- | --- |
| Year | Enrolment | Graduates |
| 1998 | 30 | — |
| 1999 | 32 | — |
| 2000 | 28 | — |
| 2001 | 88 | — |
| 2002 | 72 | 25 |
| 2003 | 60 | 28 |
| 2004 | 72 | 24 |
| 2005 | 71 | 81 |
| 2006 | 69 | 64 |
| 2007 | 71 | 60 |
| 2008 | 70 | 68 |
| 2009 | 78 | 59 |
| 2010 | 67 | 66 |
| 2011 | 70 | 71 |
| 2012 | 72 | 60 |
| 2013 | 73 | 70 |
| 2014 | 67 | 61 |
| 2015 | 52 | 65 |
| 2016 | 59 | 68 |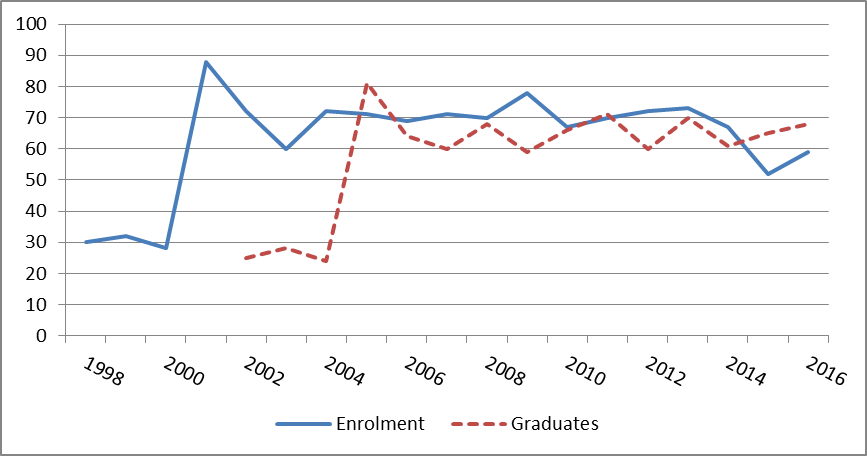 Annual Student Enrollment and Graduation Data of Industrial Engineering