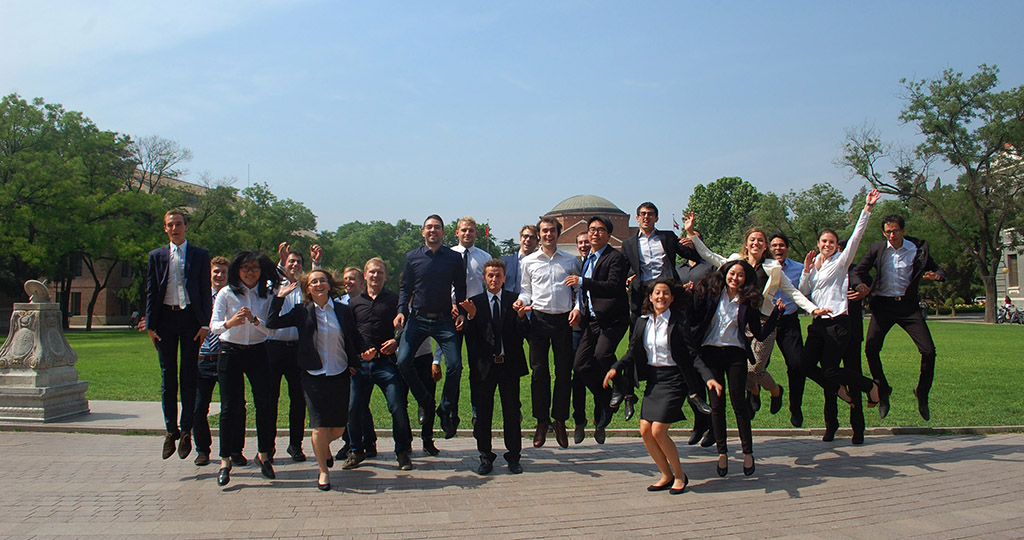 1. International Master Program of Global Manufacturing
Started from 2009, Global Manufacturing Program is an English program available for all full-time international students with a global vision in management science and engineering, with special focus on the manufacturing industry in China with a study period of two to three years. Except for the required master thesis, at least 25 credits in total for their master programs should be accomplished during the study period, including 5 credits for public compulsory courses, 2 credits for compulsory activities, and 15 credits for compulsory courses, limited optional courses and 2 credits optional courses,1 credit for Academic and professional development course.
2. International Tsinghua-Aachen Joint Master Program
The program was initiated in 2001 under the agreement between Tsinghua University and RWTH Aachen University, Germany. Up to now, more than 250 Germany students have been admitted. For the students enrolled in 2018, the program requires at least 27 credits of courses, including 6 credits of public and major compulsory courses, 6 credits of general courses, and at least 15 credits of elective courses for Industrial Engineering.
3. International Tsinghua-Politecnico di Milano Joint Master Program
Launched in 2017, it is a dual-degree program welcoming students from Politecnico di Milano University, Italy, following the bilateral agreement of the two universities. The program requires at least 30 credits of courses, including 6 credits of public compulsory courses, 2 credits of compulsory activities, at least 15 credits of major courses, and at least 7 optional courses.
4. International Master of Engineering Management (IMEM) Program
Initiated in 2016 by MEM Education Center, IMEM is tailored to meet the demands of global engineering projects in the globalization context. The program is the first of its kind in China. It is unique among graduate programs in terms of its flexibility, multidisciplinary curriculum and opportunities of cross-cultural communication and collaboration.
1) Multidisciplinary curriculum: combining state-of-the-art engineering advancements, industry leading knowledge in management, and training in business, finance, information technology, culture and related areas.
2) Chinese perspective: well-designed immersion class and internship provide students with visits and hands-on practices in a cross-cultural context, to improve teamwork, leadership and communication skills.
3) Sino-Foreign Cooperative Graduate Education: professors from prestigious universities internationally will jointly cultivate IMEM students.
4) Flexible study options: MOOC courses are available for certain core courses, offering greater schedule flexibility for students.
5) MEM Assistantship: IMEM students are eligible for MEM Assistantship, which will promote their interaction with the MEM program students, improve their Chinese and cross-cultural communication skills.
For more information, please click http://www.imem.tsinghua.edu.cn/imem/About_IMEM1.htm